Street Dining Pavilion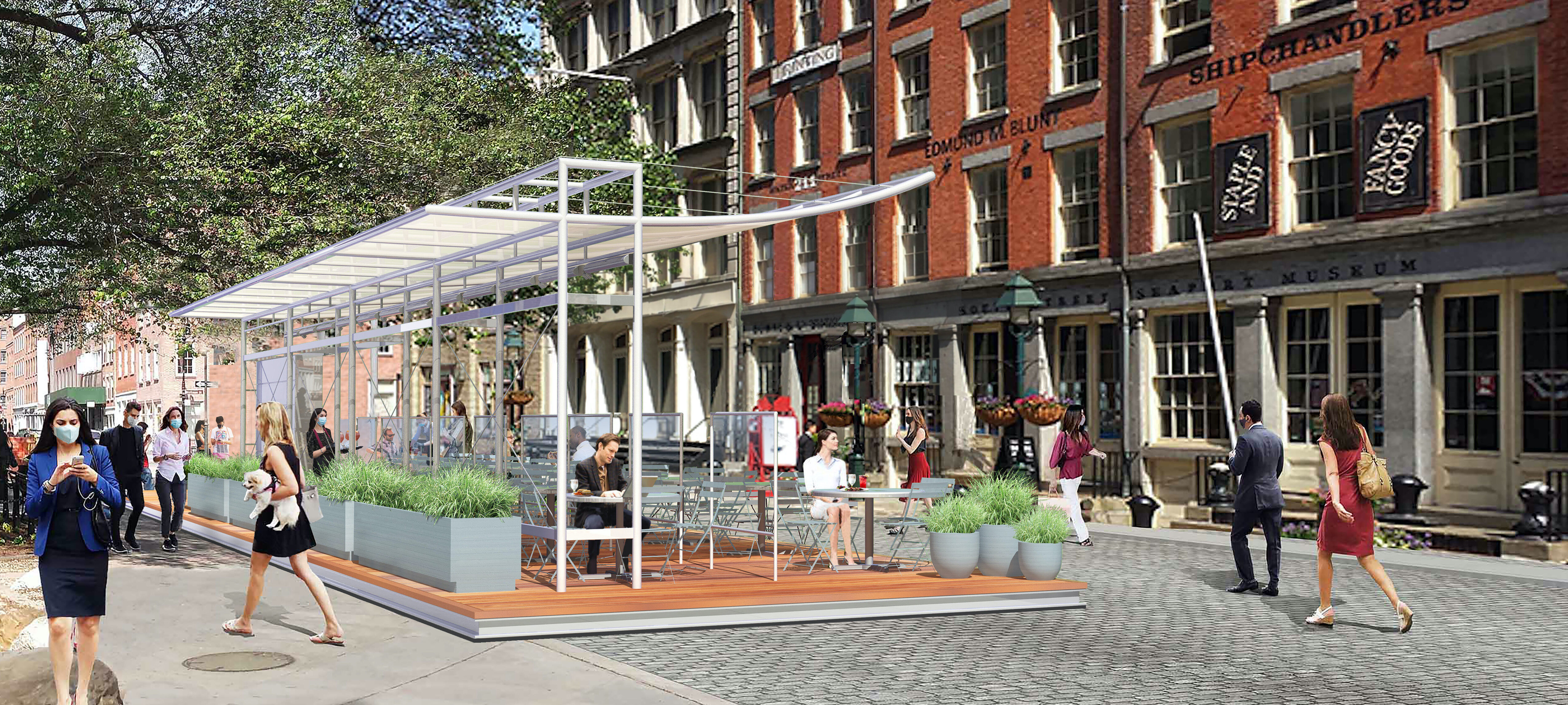 A demountable outdoor deck-and-canopy installation, allowing post-Covid outdoor dining to continue operation into the cooler seasons.
Developed in response to the dramatically expanded need for outdoor dining during the Covid-19 pandemic, the Street Dining Pavilion is a demountable, "kit-of-parts" installation which allows operation through the fall and winter through a full canopy roof, windbreak panels, and electric heating integrated into the canopy and decking.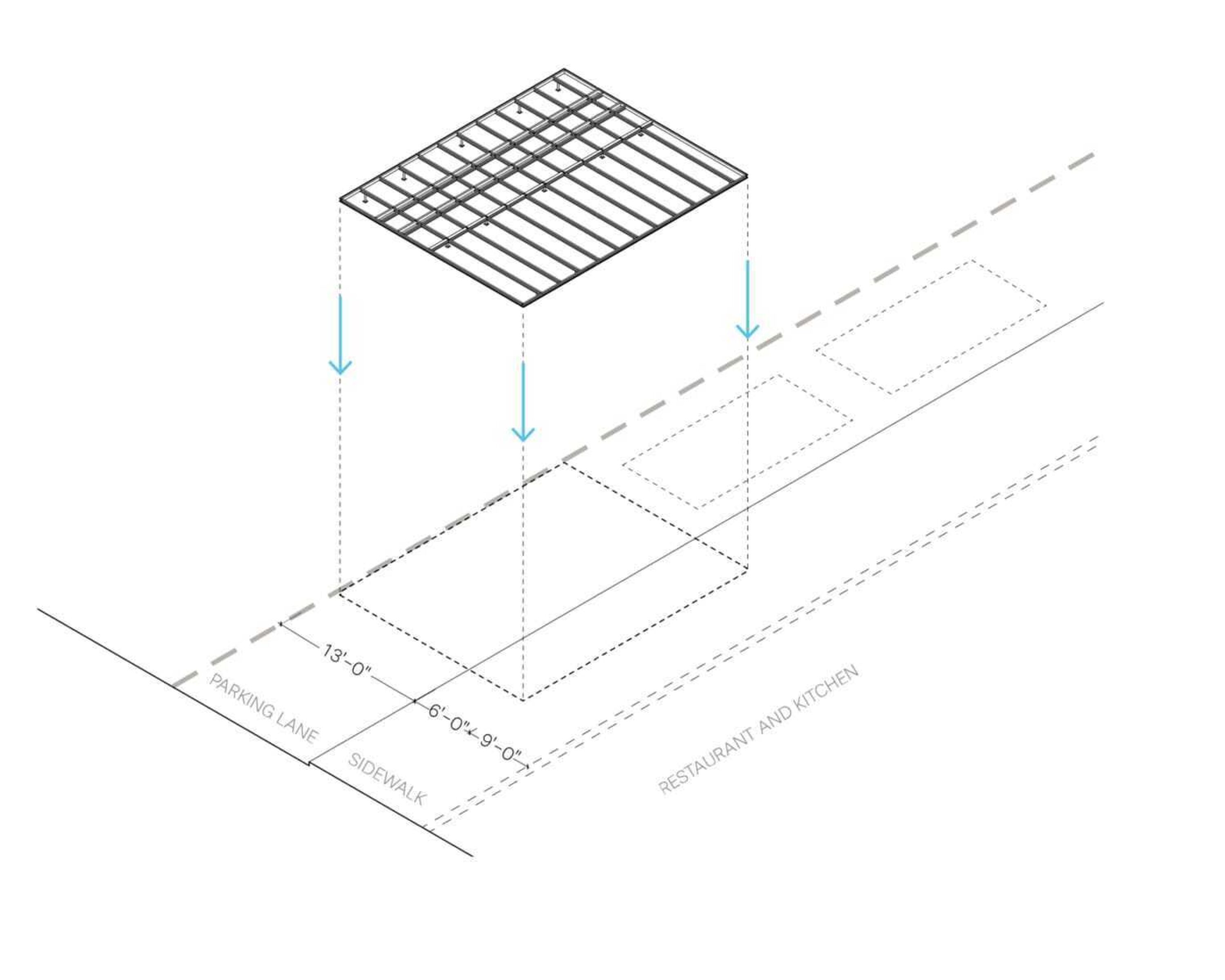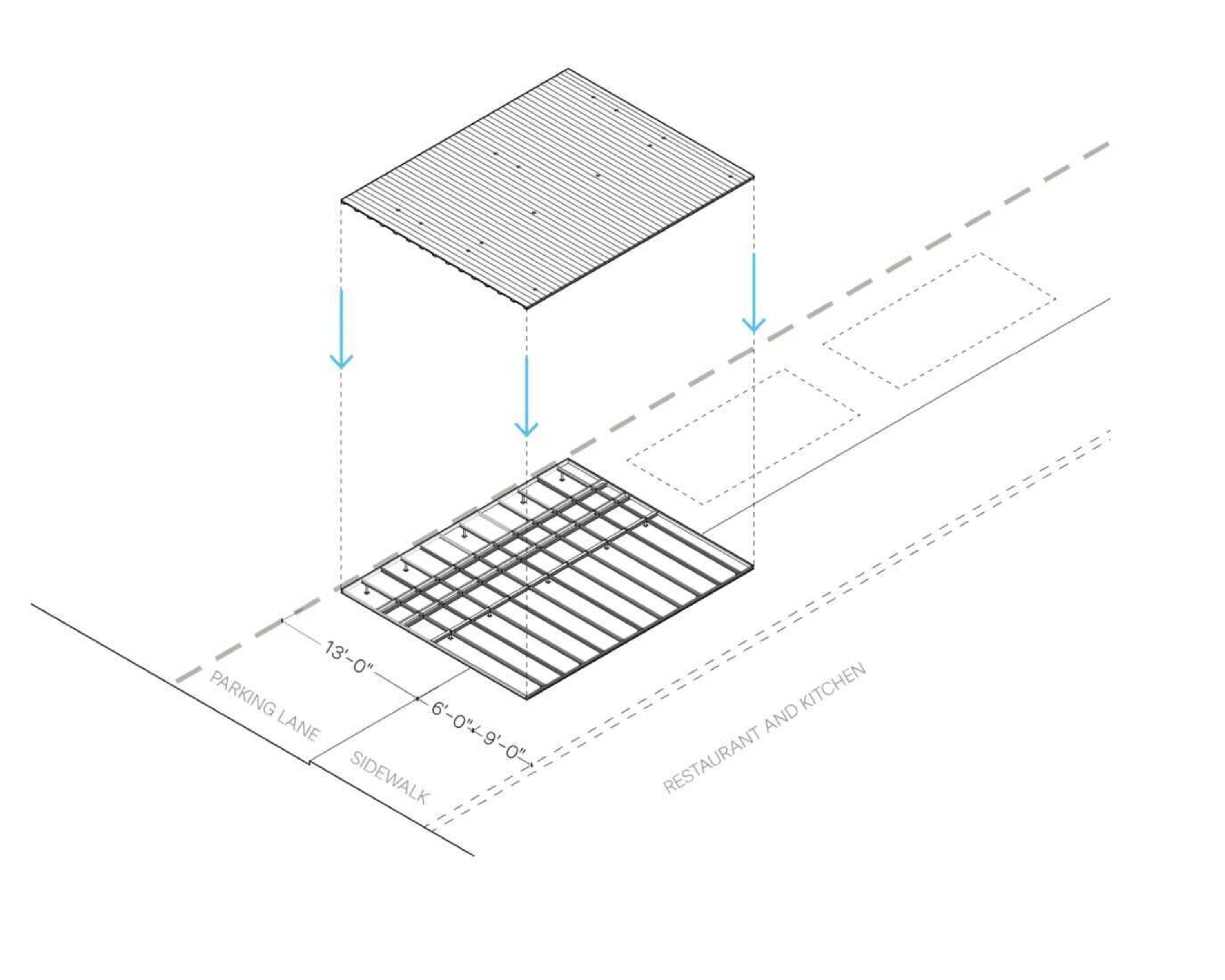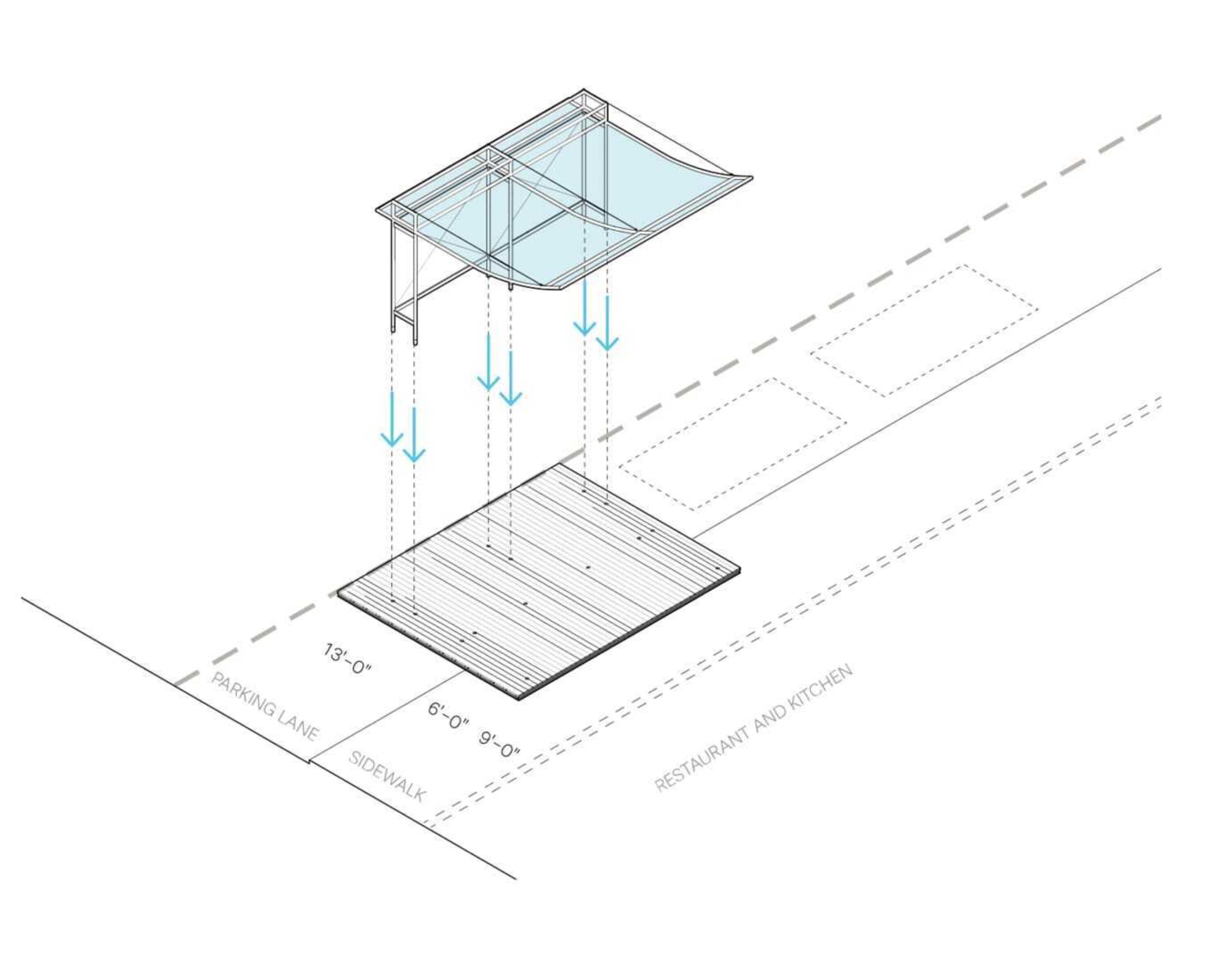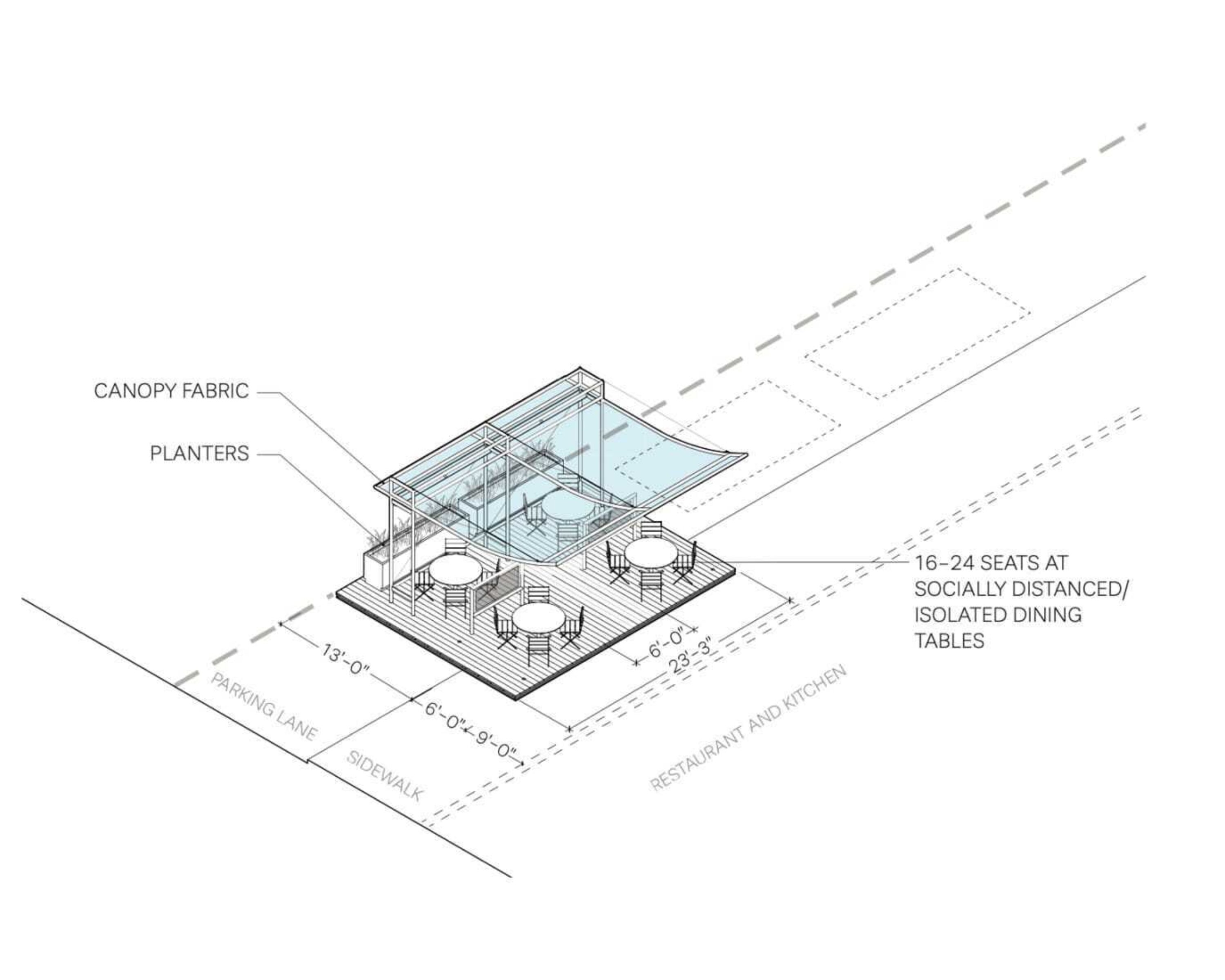 The Dining Pavilion consists of a wood and steel-framed deck that "floats" a few inches above the street and sidewalk (with adjustable levelers), into which slots a metal-and-fabric canopy. Once assembled, the canopy and deck lock together to form a single structural unit that requires no foundations. The installation represents, essentially, a large piece of street furniture, which—like a "flat-pack," IKEA-style piece of furniture—can be swiftly assembled from pre-fabricated components and placed onto any existing street surface (and disassembled with equal ease).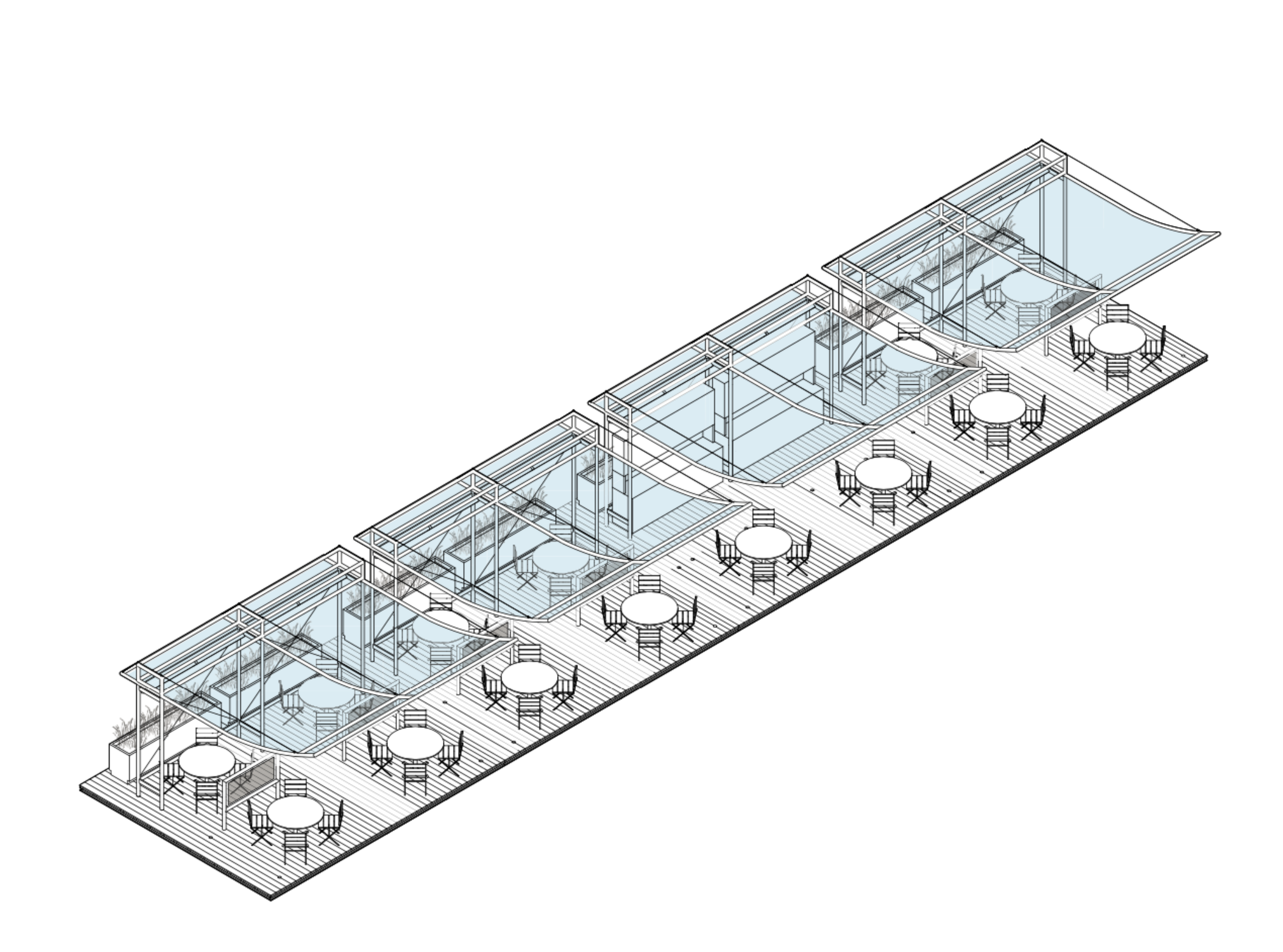 Each canopy structure accommodates four 48" dining tables seating a total of 16 to 24 people with social distancing. Several canopies placed side by side accommodate 50 to 70 covers to ensure a profitable operation. Outdoor kiosks— outfitted with countertops, utensil storage, removable trash containers, and serving supplies and equipment—provide stations during the day and lockable storage overnight, allowing for convenient operation.
The proposal builds on James Sanders Studio's longtime interest in the use of canopy, frame, and kiosk structures for outdoor activations, including the Bryant Park Project, which introduced an open-air bookmarket, flower market, and two cafés to revitalize the then-troubled landmark space behind the New York Public Library, and the Seaport Event Hub (above), a 2015 proposal for the Seaport Culture District, developed with HarperCollins, for an open-air activities hub with book and magazine kiosk, café kiosk and seating, and flexible event space.
The Dining Pavilion's deck and canopy structure also accommodates heat lamps and underfloor heating (with electrical cabling running within the frame and beneath the deck) and clear windbreak panels, allowing for continued use in colder weather (above). In the evening, integrated lighting fixtures throw a gentle wash of light onto the underside of the fabric canopies, reflecting a vibrant and welcoming glow on the activities beneath.