Celluloid Skyline Exhibition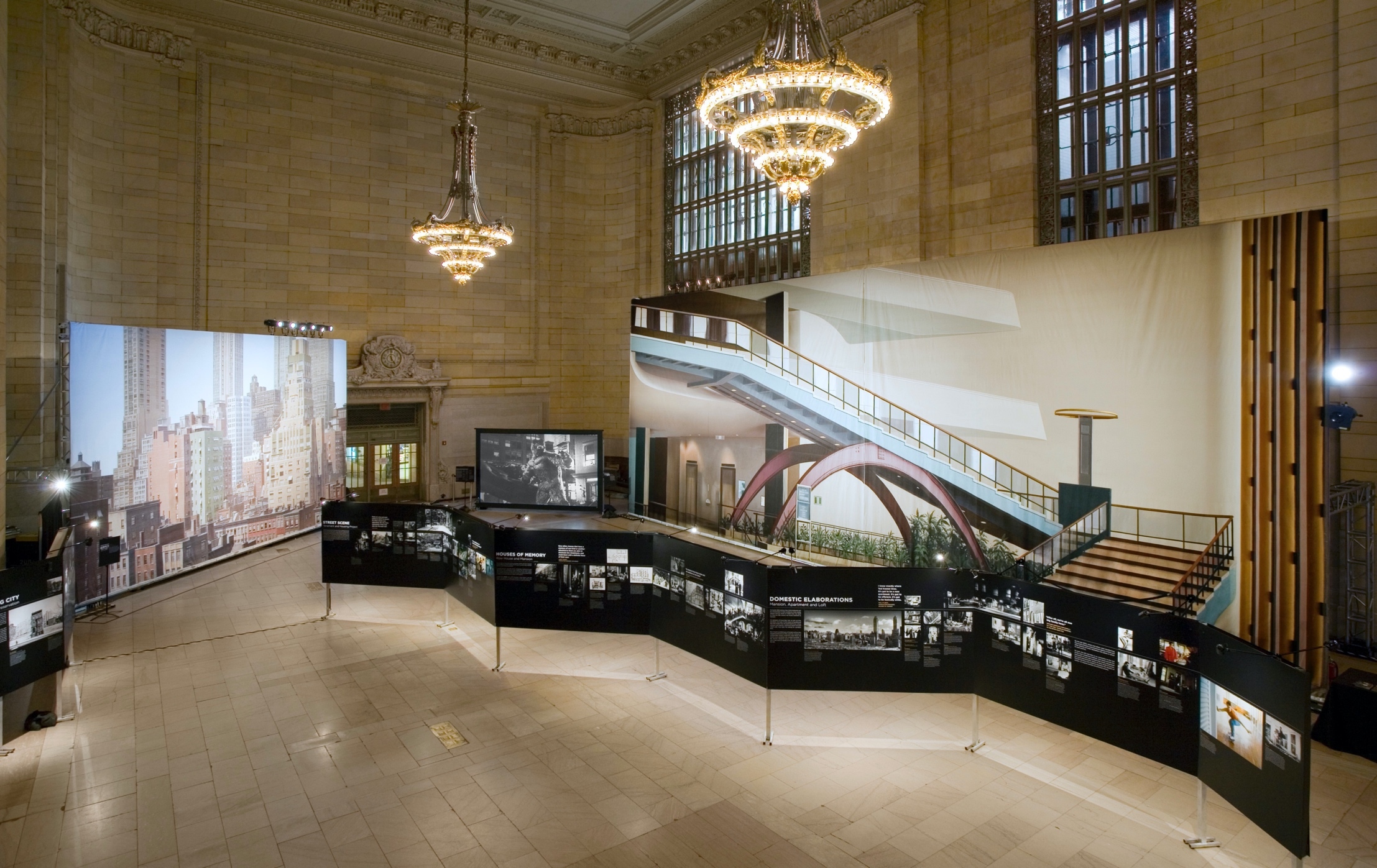 A large-scale immersive multimedia installation in Grand Central Terminal, based on James Sanders' book on New York and the movies.

In 2007, James Sanders's book, Celluloid Skyline, was transformed into a large-scale multimedia installation in Grand Central Terminal, bringing to life the glittering cinematic metropolis—movie New York—that has mesmerized audiences for a century. Designed and produced by James Sanders Studio (with graphics by Pentagram) and sponsored by TCM, the 15,000 square-foot installation filled Vanderbilt Hall with exhibit panels, rear-projection screens, and four colossal "scenic backings" produced during the studio era by MGM—the actual artifacts used in the making of Alfred Hitchcock's North by Northwest (1959) and Vincente Minnelli's The Clock (1945), among others.
An eerie, dreamlike overlay of past and present.
Caryn James, New York Times
Bewitching...elegant...illuminating...
Simon Houpt, Toronto Globe & Mail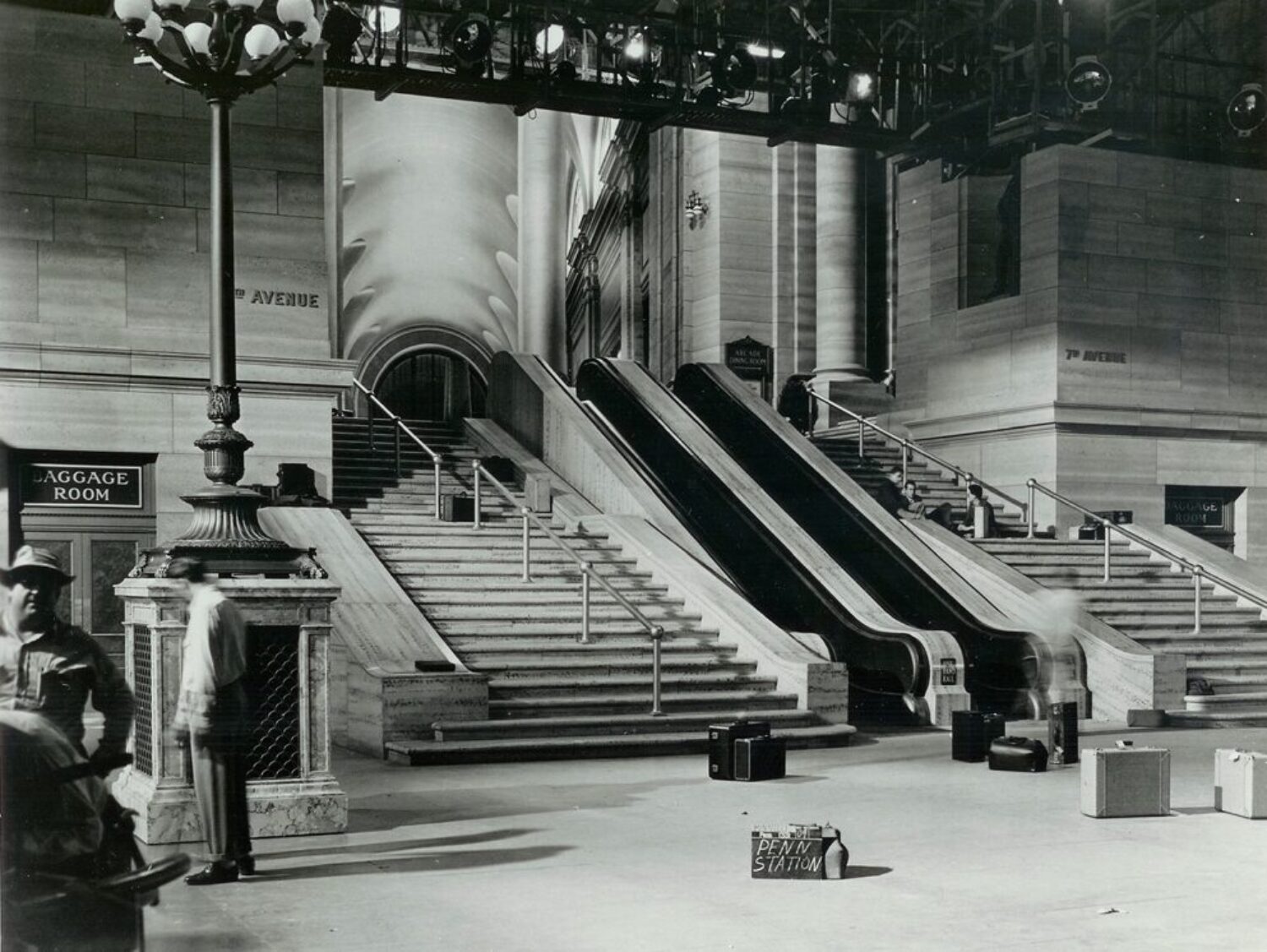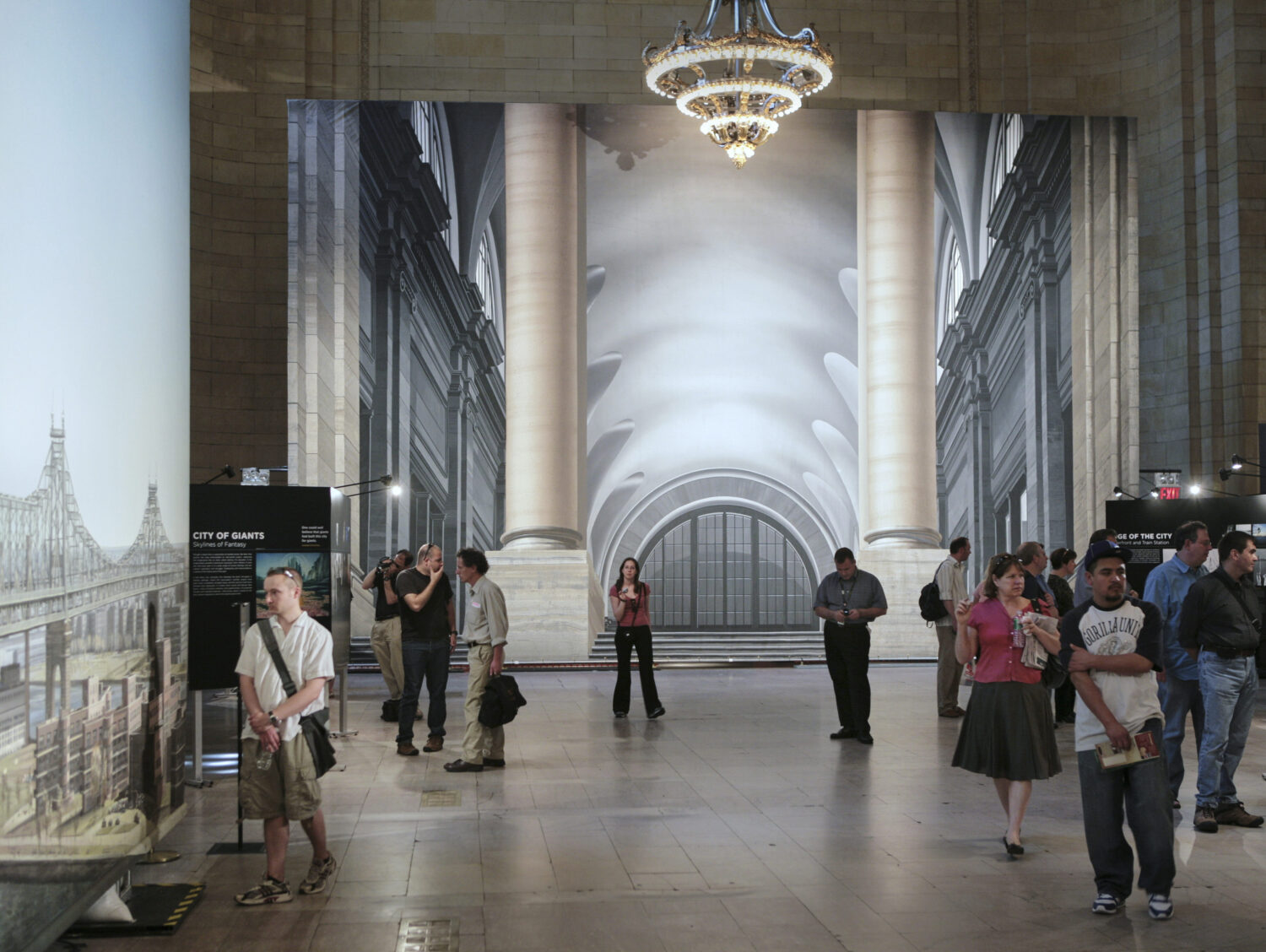 One of the exhibition's backings carried special resonance in its new setting: a 45-foot-tall painted recreation of the arcade of the original 1910 Pennsylvania Station, part of an immense set on MGM's Stage 27 (above, left, at top of staircase) for the 1945 film The Clock, directed by Vincente Minnelli and starring Judy Garland. At the exhibition, the towering backing—the last full-scale "remnant," in a certain sense, of McKim, Mead & White's vanished Penn Station—could make a ghostly reappearance within the walls of its old crosstown sister, Grand Central, reborn in recent decades (above, right).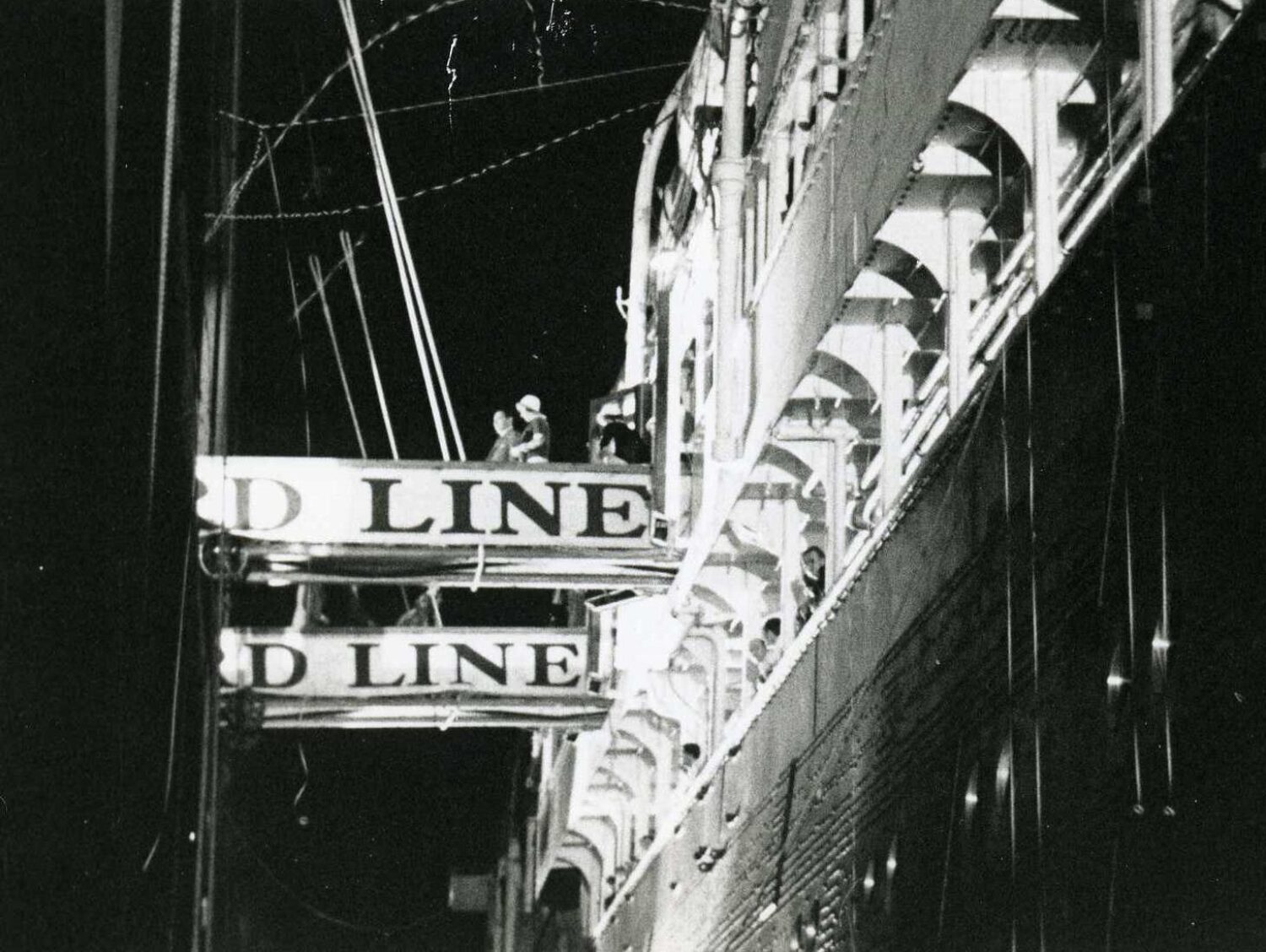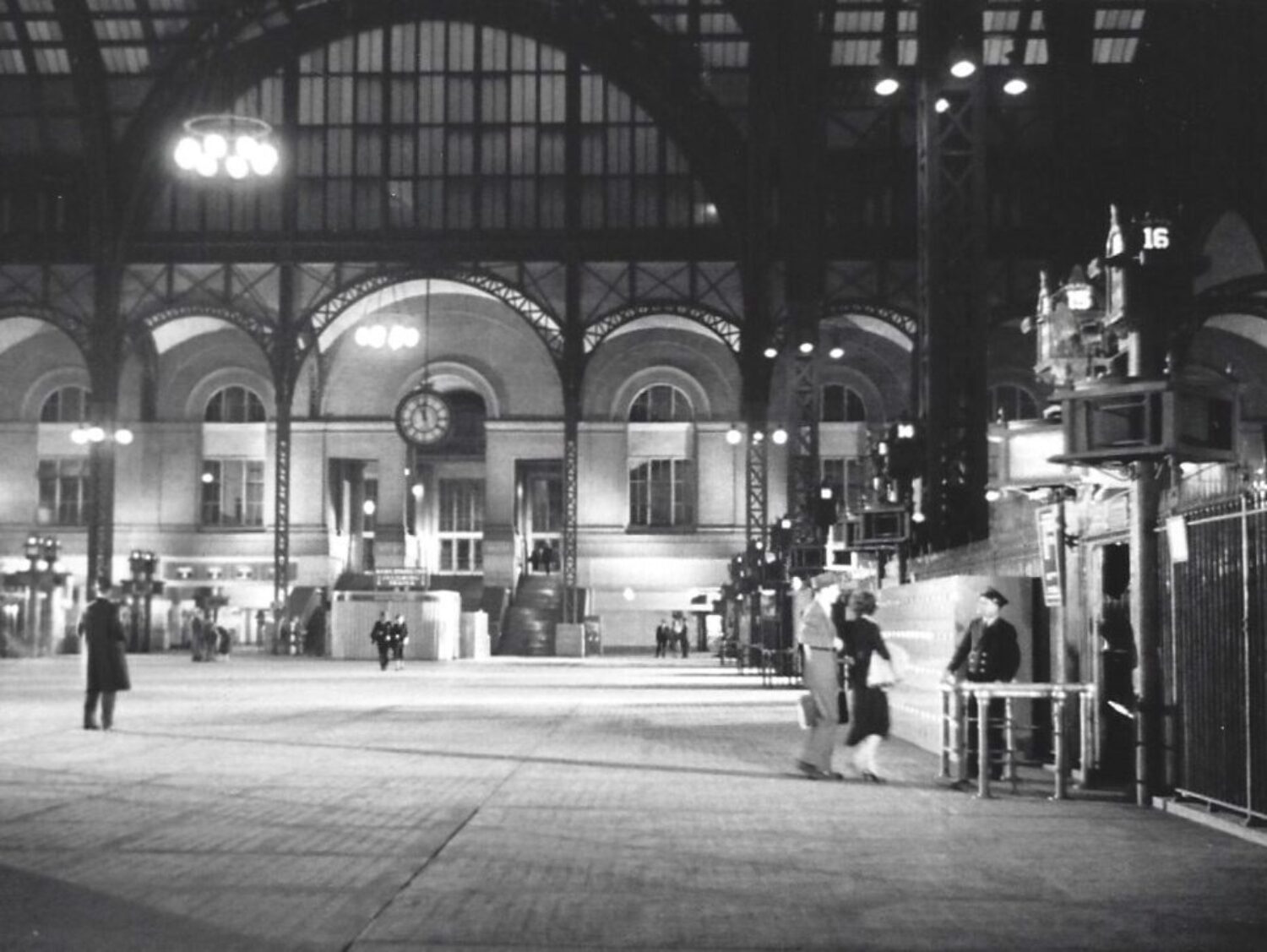 The exhibition's immersive elements included original background "plate" footage from Paramount Studios. Originally projected from the rear onto a large translucent screen (or "plate") on a studio effects stage, the background footage created the illusion that a film's actors stood not in Hollywood but on a Cunard Hudson River pier (above, left) or the nighttime concourse of Penn Station (above, right), or countless other locations. At the Celluloid Skyline exhibition, visitors standing in front of these projection screens could literally "inhabit" the movie city.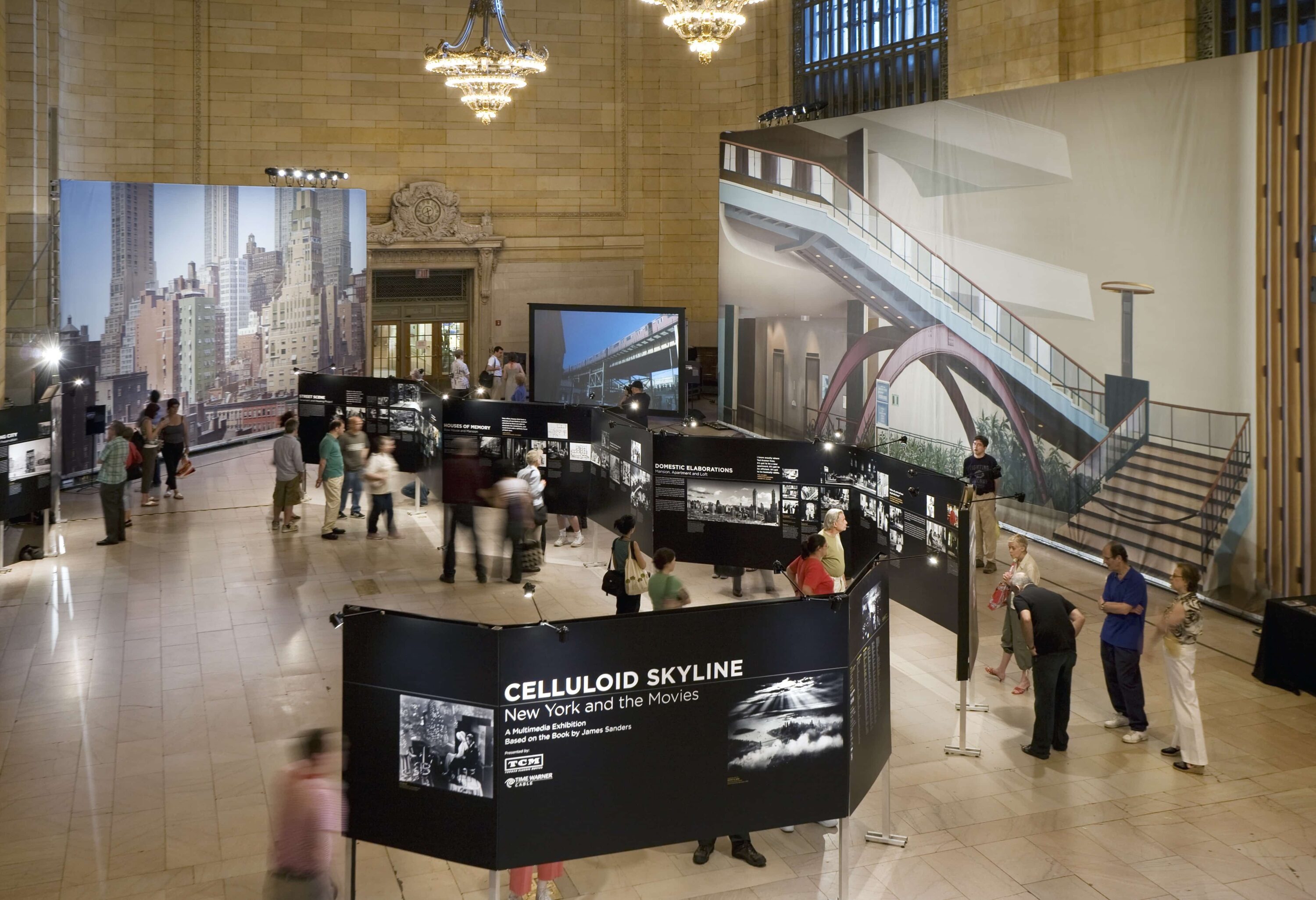 Transported from the former MGM Studios in Culver City, the historic scenic paintings were displayed on enormous freestanding truss structures, including one stretching 120 feet wide to support the backing of the United Nations' lobby from Hitchcock's 1959 North By Northwest (below, at right of image). The backing of the East Midtown skyline (above, at upper left of image) could be gradually darkened from day to night, its windows glimmering from thousands of tiny translucent openings in the painted fabric, lighted from behind.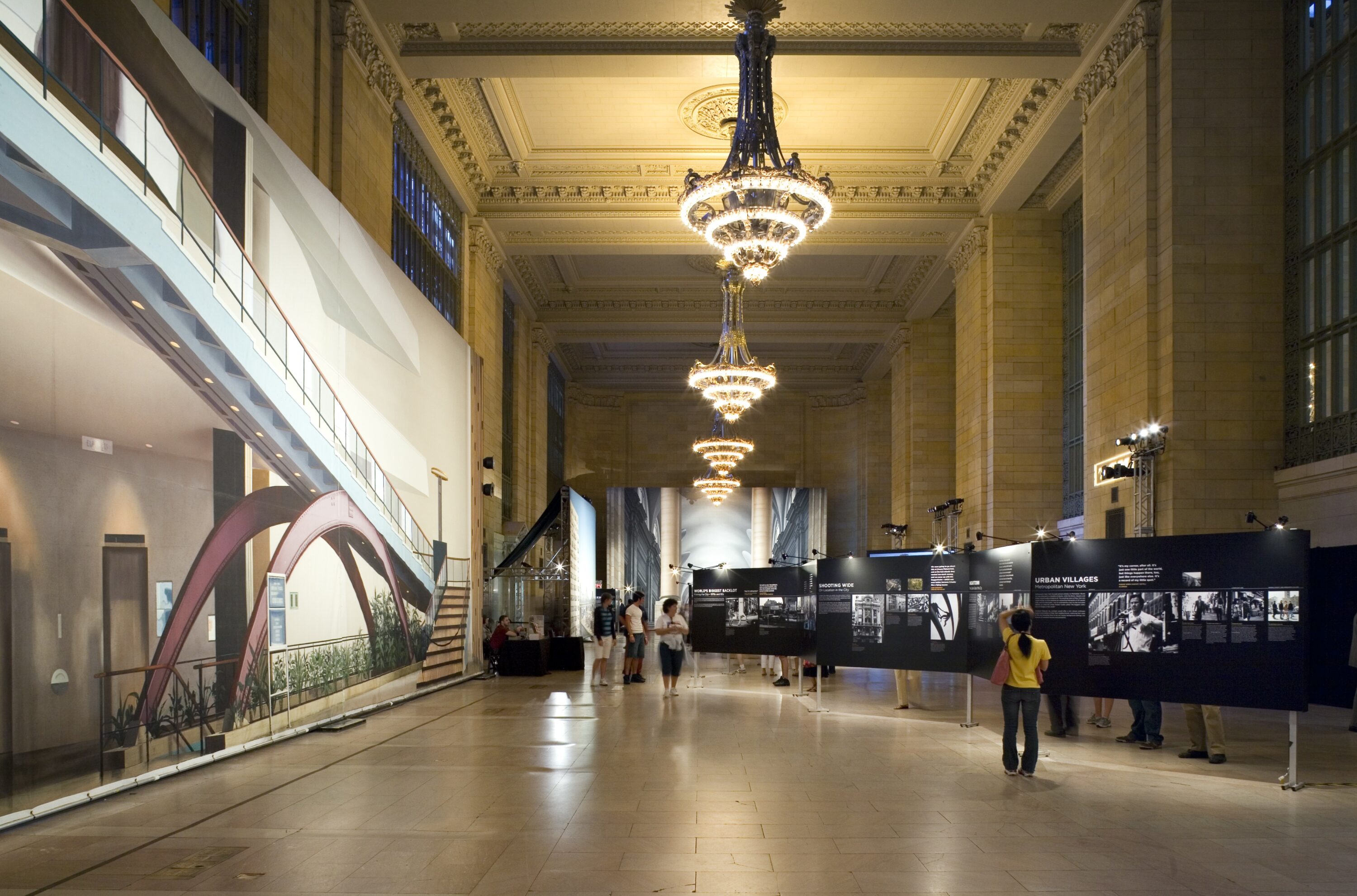 Held in association with a festival on TCM of New York-set films, the Celluloid Skyline installation was viewed by over a hundred thousand people during its month-long run, and received coverage around the world. The exhibition "should inspire every architect to take a fresh look at the city," wrote Michael Webb in The Architect's Newspaper, while The New Yorker proposed that the show's "colossal 'scenic backing' paintings…if displayed in an art museum… would be recognized masterworks of Photo Realism."