One JFK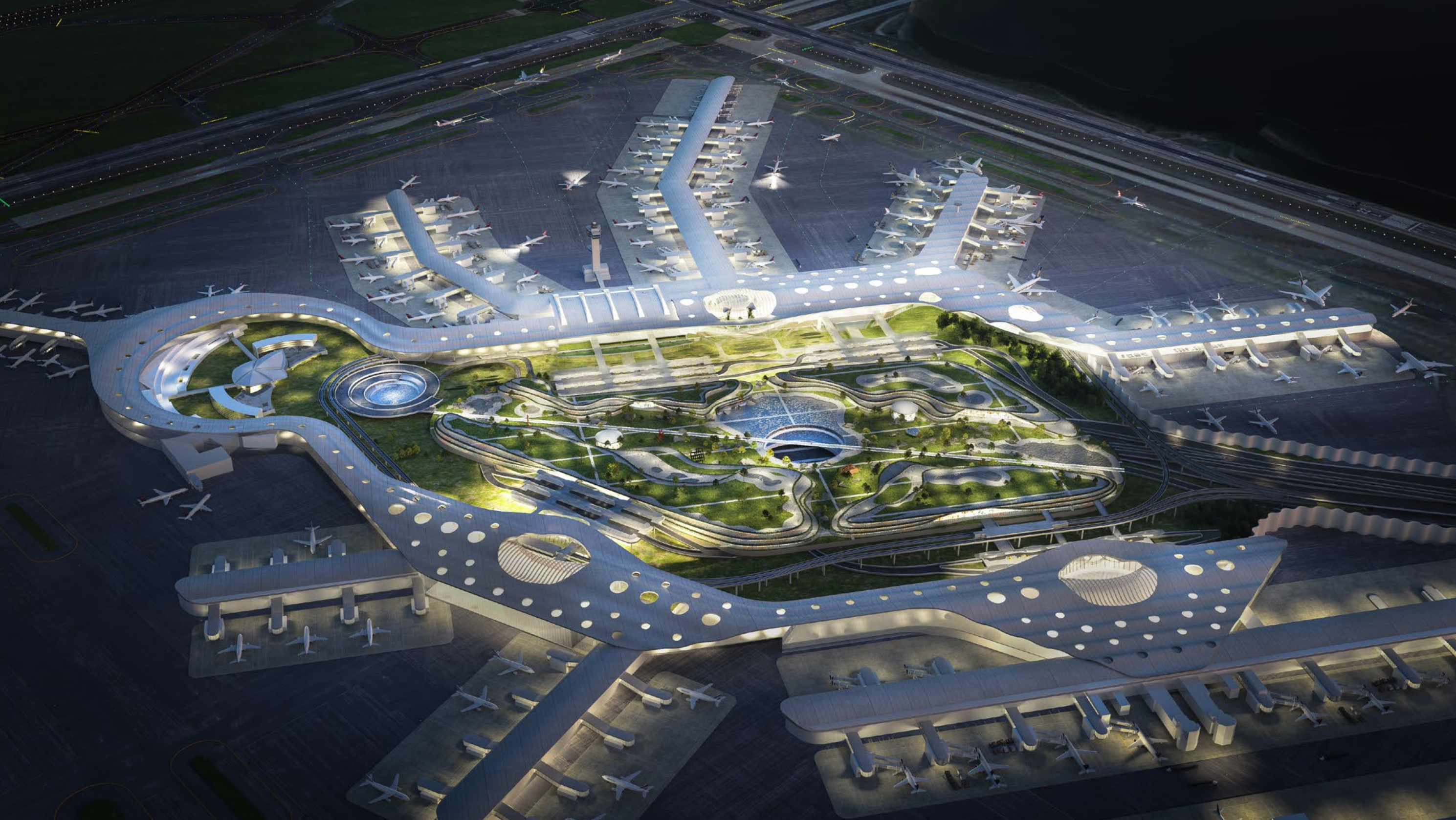 Produced with Woods Bagot, a proposed master plan for the redesign and redevelopment of JFK Airport for the 21st century, laid out around a new central landscaped hub that would connect, orient, and delight airport visitors.
As a member of Woods Bagot's project team, James Sanders helped to conceive and design a proposed master plan for a multi-phased redevelopment of John F. Kennedy International Airport, heralding its return to its original mid-20th century status as the most glamorous, advanced, civic-spirited air transportation facility in the world.
In place of today's confusing, cramped, and outdated facility, One JFK would offer the world's largest and most advanced terminal buildings—innovative and consistent in their design, and arranged in an overall layout that is simple, clear, and instantly comprehensible.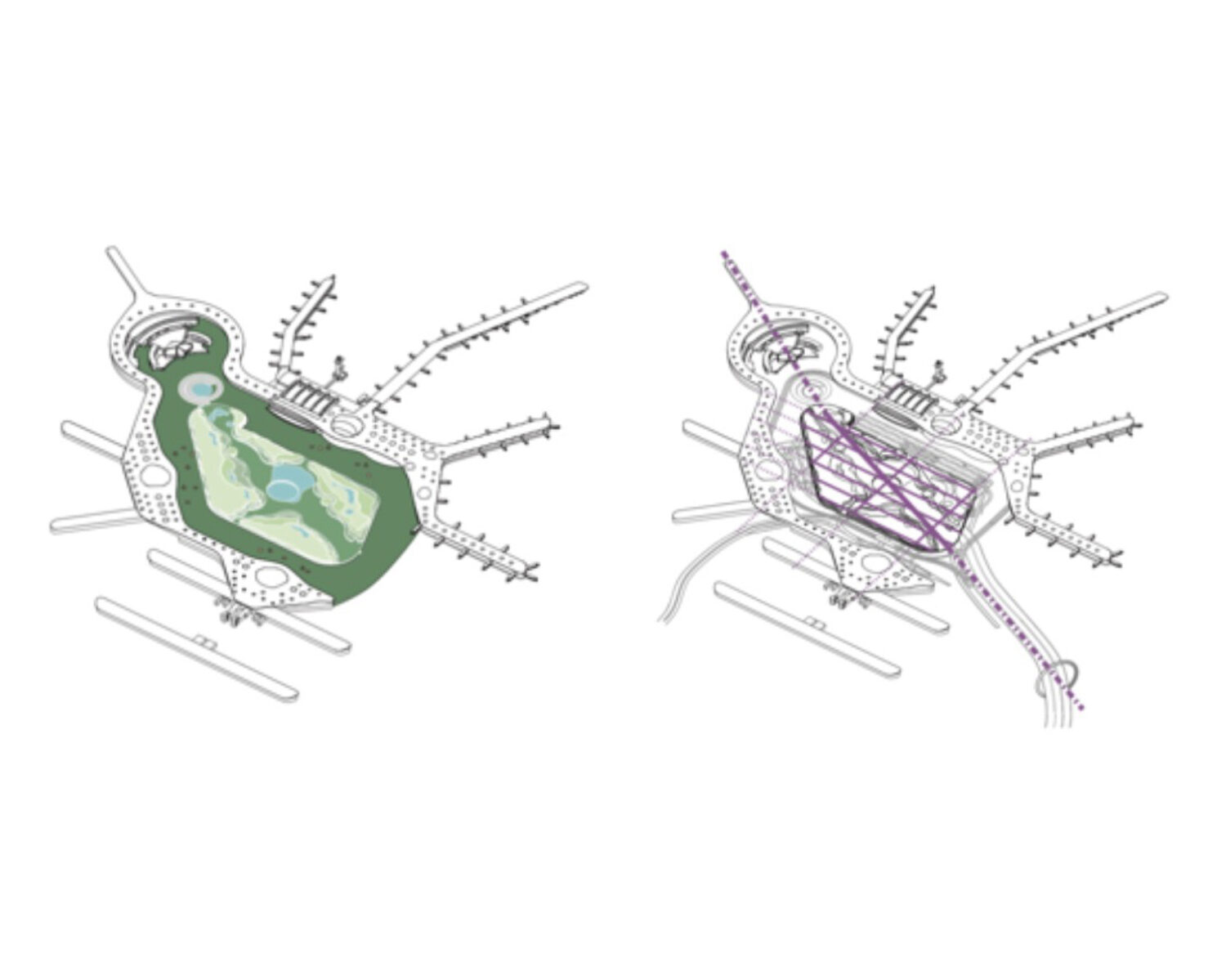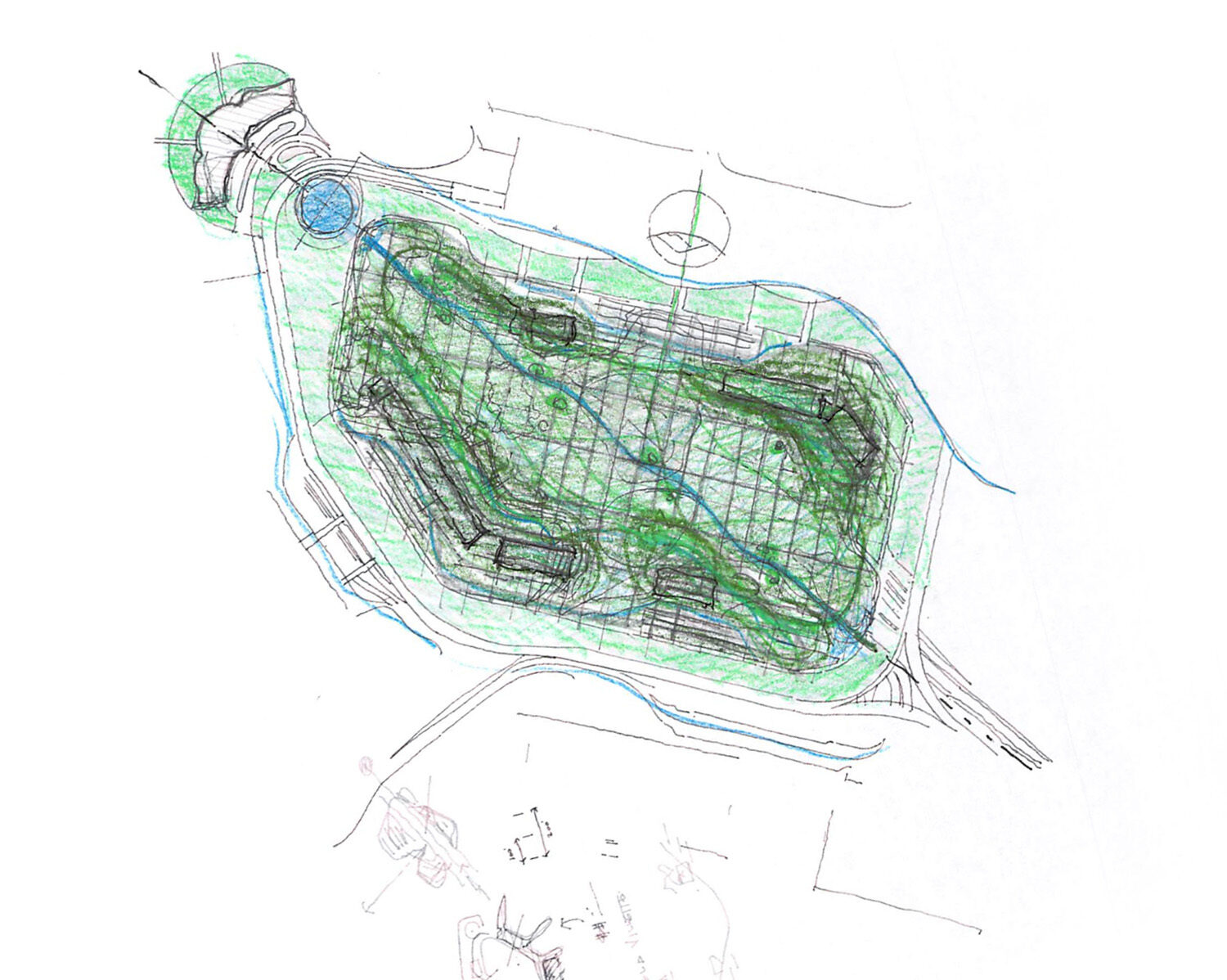 The new terminals would be laid out around a central organizing element, an immense hub, whose lush landscaped gardens, cultural attractions, visitor, hotel, and conference structures—along with modern drop-off, arrival, and parking facilities—would have no match in the world. The hub would dramatically improve the airport's connectivity, allowing direct pedestrian links from one terminal to another, and from new stations connecting JFK to Manhattan.
Rooted in the urbanism of New York itself, the landscaped hub provides as a central orientation device, ensuring visitors always know their location within the airport. Like Central Park, its greenery also serves to soften, humanize, and organize the manmade landscape around it. A fine "grid" of walkways evokes Manhattan's street grid, while a diagonal pathway provides a "Broadway"-like element, uniting the gardens along the axis of the TWA Flight Center (upper left in drawing).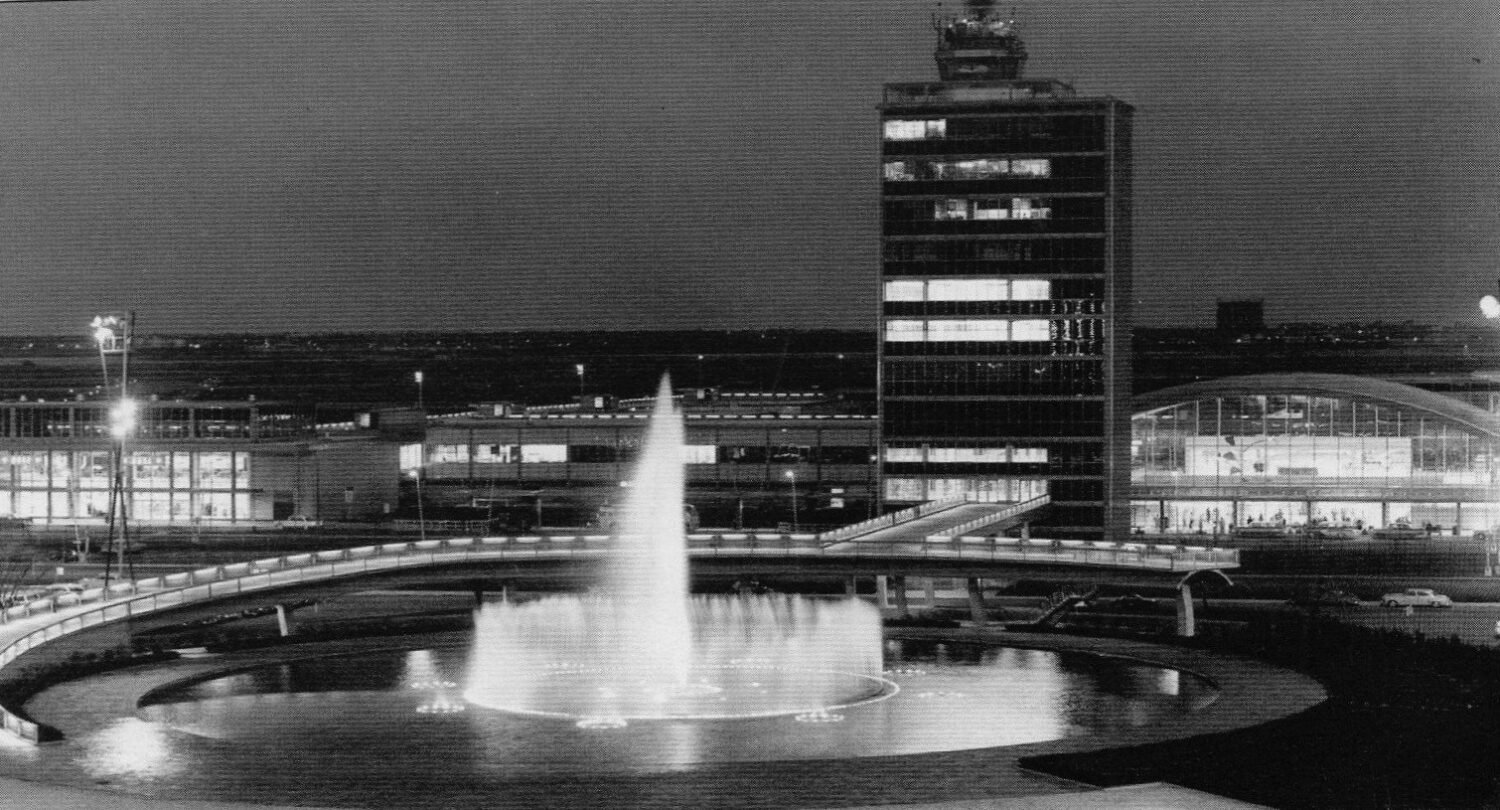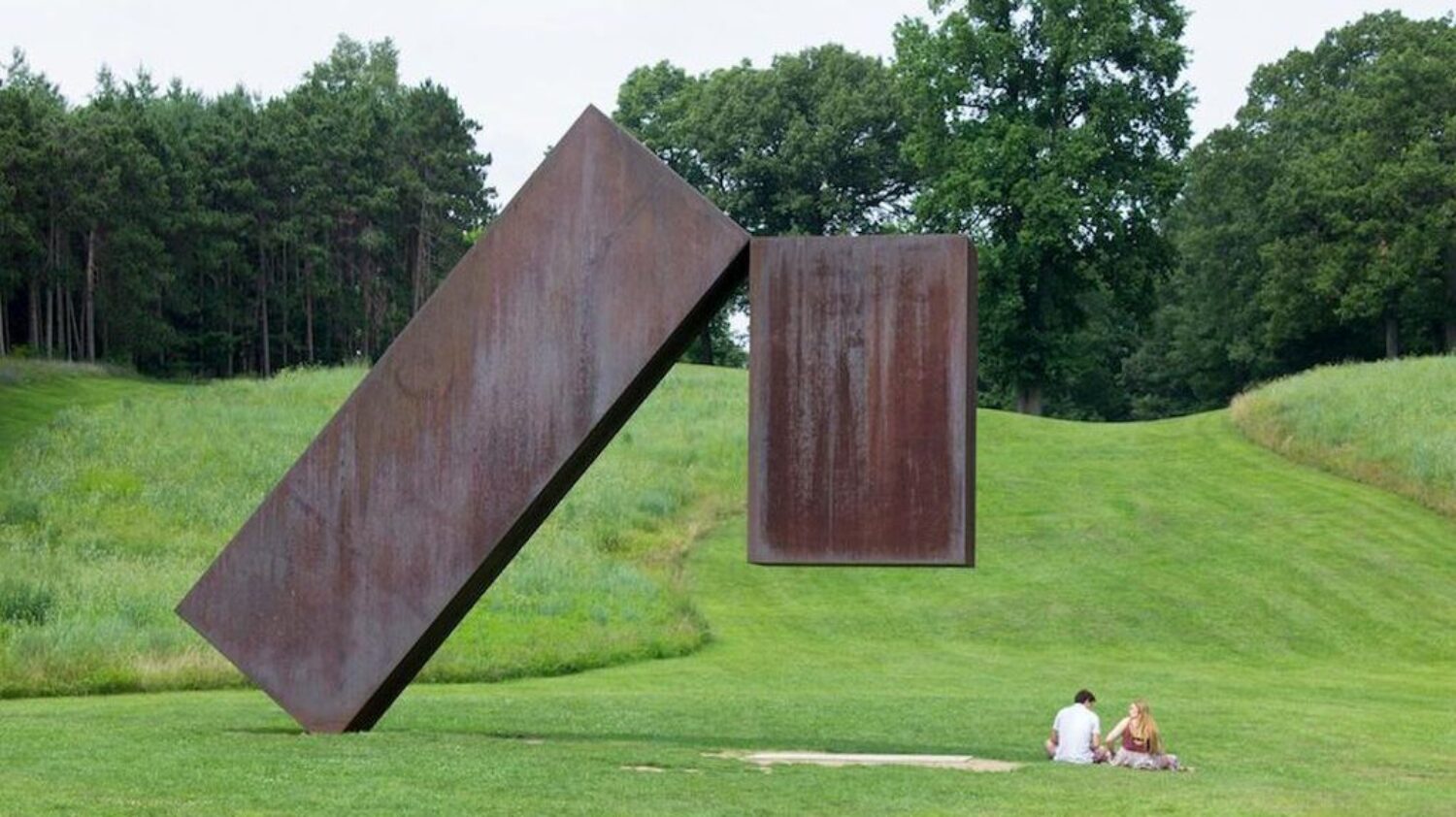 Drawing on the remarkable (though now little-recalled) heritage of the centrally located "Liberty Gardens" and spectacular fountains from the 1960s Idlewild Airport (above, left), the landscaped hub would be centered on a large grass lawn, framed by grove-like areas interlaced with serpentine walks and watercourses, offering shaded seating and viewing areas for a world-class open-air museum of large-scale sculpture by New York artists (above, right).
In the clarity of its layout and in its landscaped hub, One JFK recalls the airport's rich architectural heritage—and the underlying urbanism of New York itself—while propelling it into the 21st century. The result would be a new global landmark—distinct from any other airport, and deeply rooted in the distinctive identity of New York and its pioneering international gateway.